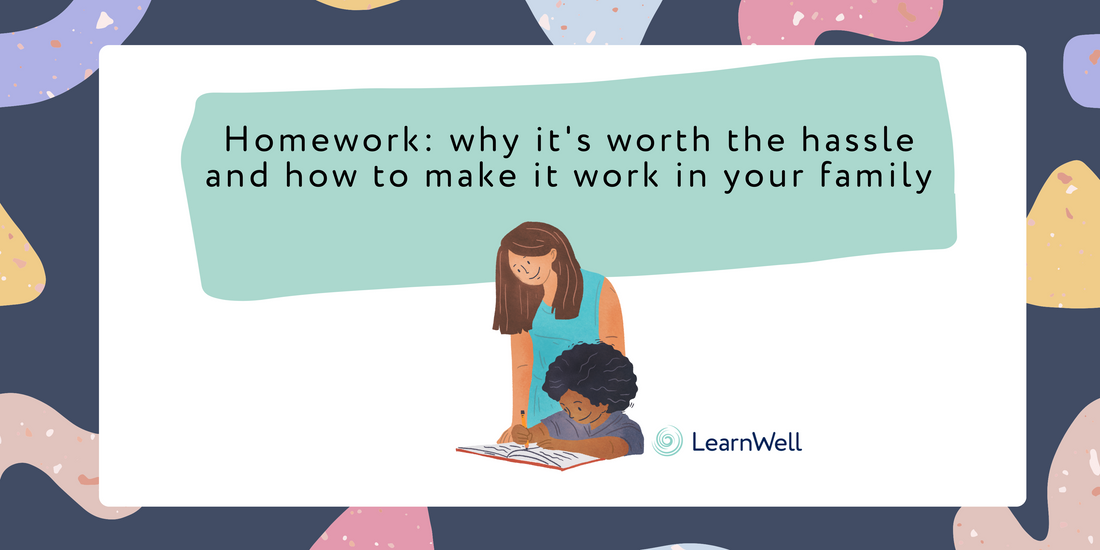 Homework: why it's worth the hassle and how to make it work in your family
Some kids want to do homework, others want to do anything but.  Some schools want students to work on several subjects every evening, others have abandoned any homework requirement at all.  We want our kids to play, have free time, contribute to the home and keep making good progress growing their brains academically, too.  Phew!  Life is definitely a balancing act.
As parents, it can be hard to know what helps your kids learn when they're already tired from a day's worth of activity and learning.  What is necessary beyond what they do in their school hours?  What should they do in their ages and stages? How can you capture their progress across subjects and see where they might need a little something extra?
LearnWell can help!
Should we bother with homework in our home?
Completing homework (or home learning) regularly is strongly linked to higher academic achievements in subjects such as English, Maths, and Science. Completing some homework plays a crucial role in developing essential skills in children that will benefit them throughout their schooling and future careers.  
These skills include:
improved grades,
discipline,
time management,
learning to use resources effectively,
better communication,
problem-solving abilities.
You'd have to work hard to find evidence that hours and hours of homework a night is beneficial though.  It's about reinforcing learning, and making sure your kids get maximum benefit - while still having plenty of headspace for other parts of life.
Breaking down the benefits
The importance of homework can be broken down into the following benefits.
Pushing yourself to complete a task is a discipline we must all learn as adults, and is a transferrable skill for every job, career and life. No one wants to do laundry or tidy their room! Having the discipline to put some time aside and just do it is a vital skill.
Homework teaches children to manage their workload and meet deadlines independently. It helps them to judge how long a task will take and make a plan.
Homework can help teachers and parents gain deeper insights into children's learning. As a parent, when you help with homework, you start to understand more about how your child learns or where they are at across different subjects. It puts the teacher and parent on the same page.
Comfortable Work Environment:
Not every child finds the high-stimulation environment of a busy classroom helpful for learning. Homework offers a familiar and comfortable learning environment, giving the child more time to practice new skills and evolve their understanding of new concepts. 
Well-resourced
As always, providing your kids with something interesting, fun and fulfilling is really a key to helping them want to keep up a habit.  
For juniors and kids at intermediate, LearnWell has a homework book for every level from Year 1 to 8. Each of these books works is written by New Zealand teachers for the New Zealand Curriculum.  These resources keep kids up to date with snippets across different parts of the curriculum, so you're changing it up and getting a picture of what they should know and what they might need a little extra support with.  Engaging characters and NZ context really help solidify learning.
If you want to concentrate on Science, Maths, English or other key parts of the curriculum, Start Right resources give Year 1-8s chunks of learning they can work through on a time basis that suits your family. 
For secondary learners, the LearnWell range offers something for every student.
Find your preferred digital or print resource:
Or, simply get in touch with us to discuss your specific family situation.  We can help you choose a resource that will add home learning in the right balance for your schedule.