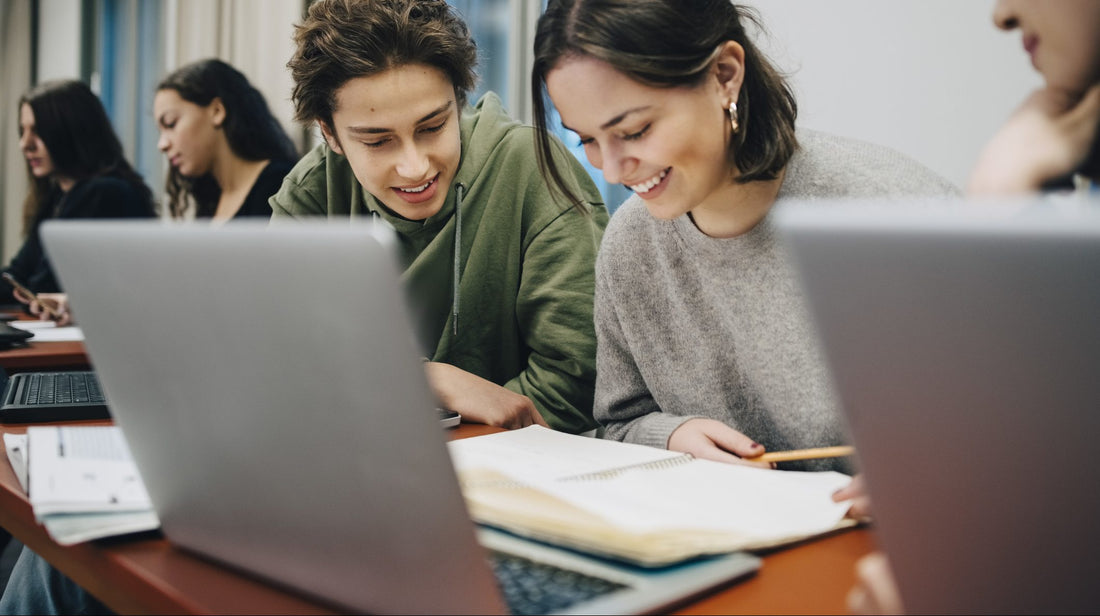 The benefits of blended learning
The uncertainty of Covid-19 and whether schools will be open for face to face or online learning means teachers have had to prepare for both eventualities. This has put a lens on the benefits of blended learning both for schools and students.
Feedback from students after the initial lockdown in Aotearoa/ New Zealand was that many enjoyed the ability to have more control over their learning and deciding when and how much time they devoted to it. No bells, timetables or fixed timeframes confined them. Students enjoyed the benefit of being able to access online learning management systems (LMS) to go back over content or relisten to a webinar to clarify something they may have missed or misunderstood or for revision purposes.  Some had more time to practice skills before moving on to a new piece of learning. Others found it difficult to establish and follow their own routine and schedule.  A number of of these experiences are detailed in Learning from the Lockdown, a research study by The Education Hub, based on a survey of teachers and school leaders, parents and students.
Benefits of maintaining a blended approach to learning
As students returned to the classroom, many schools have continued a blended approach to teaching and learning. This serves as an insurance against further lockdowns (as has happened in the Auckland region recently). More importantly, in many instances teachers and students have upskilled on the use of online tools and using a LMS, and have realised using a blended approach is helpful for both teachers and students.  Face-to-face and distance learners benefit from the flexibility that a blend can offer. Covid -19 has provided the environment for more flexible design possibilities and the challenge of doing things differently.
The best of both worlds
Blended learning expands the walls of the school! It is the best of both worlds. In person, students have access to learning alongside others and enjoy the benefits of being part of a social group, as well using a learning management system to access the content. Blended learning provides multiple pathways to achieve learning outcomes. However, it still requires the physical presence of both teacher and student.
The diagram below shows the flexibility that blended learning offers a teacher. Of course, blended learning can happen totally on site in a school or offsite (at home).  Blended Learning is really a continuum with more face-to-face/less online at one end and less face-to-face/more online at the other.
Different Models
Online learning that happens in real time (usually to a set schedule) is referred to as synchronous learning. Asynchronous learning allows students to access content on flexible timetables.
There is an array of blended models and The Christensen Institute outlines 7 approaches under 4 broad headings.
Rotation Model
Rotation model: a course or subject in which students rotate on a fixed schedule or at the teacher's discretion between learning modalities, at least one of which is online learning. Other modalities might include activities such as small-group or full-class instruction, group projects, individual tutoring, and pencil-and-paper assignments. The students learn mostly at school except for any homework assignments.  Station Rotation, Lab Rotation, Flipped Classroom, and Individual Rotation are four sub-models within the rotation model. To read more about the flipped classroom the MOE Enabling e-learning website has a dedicated page:

 

Flipped Learning. Videos showcasing Tamaki College using google sites for flipping learning and Bay of Islands College talking about rewinding learning

 

are found here.
Flex model:

 

a course or subject in which online learning is the backbone of student learning, even if it directs students to offline activities at times. Students move on an individually customized, fluid schedule among learning modalities. The teacher is on-site, and students learn mostly at school, except for any homework assignments.
A La Carte model:

 

a course that a student takes entirely online to accompany other experiences that the student is having at school. The teacher for the course is the online teacher. Students may take the A La Carte course either at school or off-site. This differs from full-time online learning because it is not a whole-school experience. Students take some courses A La Carte and others face-to-face
Enriched Virtual model: a course or subject in which students have required face-to-face learning sessions with their teacher and then are free to complete their remaining coursework remote from the face-to-face teacher. Online learning is the backbone of student learning when the students are located off site. The same person is generally both the online and face-to-face teacher.
Planning for blended learning
When planning for harnessing the benefits that come from blended learning, ask yourself:
How often will you and your students meet face to face?
When and how often will you be available face to face and/or "live' online?
Is participation both synchronous and asynchronous?
Where will assessment and other assignments happen?
Do you need to capture any face to face teaching activities and upload them to your LMS?
Do your students have the ability to self-regulate, motivate and manage their time and learning? (What scaffolds might you need to put in place?)
How will you strike a balance between flexibility and supporting routine and schedule?
What support is available for students with additional learning needs?
Platforms for blended learning
There are several LMS platforms used in Aotearoa/NZ schools. Most secondary schools use Microsoft and/or the Google suite of tools, sometimes supplemented by other readymade software platforms.  LearnWell Digital provides a perfect platform to experience the benefits of blended learning. LearnWell Digital your students to access prepared resources, activities and content, as well as giving you the flexibility to add your own. Students can work on these either at school or at home. With over 200 NZ Curriculum and NCEA resources available, teachers can choose which readymade resources they use. This is the perfect solution for busy teachers!